Our Matcha
Vitalife Matcha is unparalleled in its smoothness, vivid colour, and fine flavour. And here's why:
Our Matcha is grown in Uji, a city of the Kyoto Prefecture, Japan – famed for pioneering the latest Matcha-growing and cultivating techniques, and its perfectly-suited climate.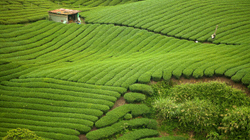 It is grown in a pesticide-free environment using traditional farming methods.
When our Matcha is picked, only the very top leaves of the bush (the ones that contain the highest concentration of catechins, and the smoothest flavour) are hand-selected.
These leaves are then dried, de-veined, and de-stemmed in a specially designed wind-tunnel that separates the stems from the main part of the leaf, or the 'flesh'. After this, the 'flesh' of the leaves (tencha) is stone-ground into a fine powder.
On traditional stone mills, it can take up to one hour to grind just 30 grams of our Matcha into the powder you see in our tins.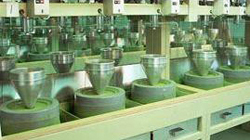 Once ground into a fine powder, the tea is then sealed in separate foil bags, and into separate tins – ensuring that the tea is no longer exposed to oxygen thus maintaining its 'just picked' freshness up until the point of being served.