The Japanese Earthquake and Tsunami Relief Fund
Thankfully none of our tea farms were affected by the earthquake/tsunami in Japan that occurred in March 2011, as they are based South-West of Tokyo in the Kyoto prefecture.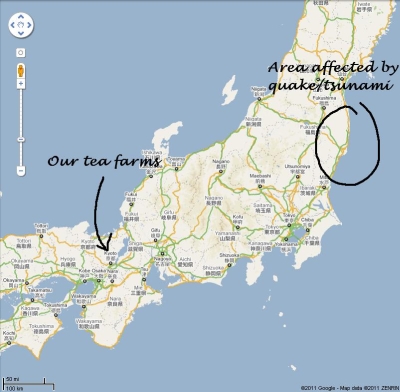 However, we worked hard to help the people of Japan that were affected by donating 25% of Vitalife's profit over a 4 month period to the relief fund.
We're only a small independent company, so this may have not amounted to much - but every little bit of money has helped Japan to recover from the terrible catastrophe.
Please join us in continuing to help the people of Japan, and multiply the impact that we have had, by donating to the relief fund.
Our selected charitable partner, Global Giving, have already helped to raise millions of pounds for the cause.
Let's help them raise even more!
The Nuclear Reactor Situation
We are all, by now, aware of the situation that occurred with the Japanese nuclear power plant in the Fukushima prefecture (the area circled above).
As you can see from the map above, our tea farms are situated a very long distance from where this has occurred - 400 miles away in fact.
Given this distance, and with brisk, prevailing West-to-East winds across Japan's Northern Coast, we anticipate no problems with future crops and inventory arising from this incident.
As a responsible and ethical tea company, we test all crops for radiation to ensure the safety and protection of our customers.